"Believing in someone is a much greater gift than protecting them. " I was handing out this (unsolicited) advice to a friend recently, and I felt the punch of it even as I said the words.
I had to laugh later when I realized: this is advice I could well stand to heed myself. That's why I felt the extra punch.
Parenting helped me some in this regard, but it sure didn't eradicate the drive to fix or rescue. No matter whose knot it is, I want to untangle it. The urge is compelling, not subtle. And the urge says a lot more about me than the specific person or predicament I'm looking at.
[bctt tweet="What you feel is about your interpretation, not what you are seeing." via="no"]
Of course, there is nothing wrong with being part of another's solution. That's a very humbling and rewarding role. I get the honor of this often when I read Tarot. But that doesn't mean I'm the ultimate origin of the solution. Anything but!
It may seem like a subtle distinction, but in reality, it's huge: if I'm solid, tuned in and steady, I remain receptive to the ongoing flow of intuitive inspiration. So in those interactions, I can easily find the just right words to deliver at just the right time. I know exactly what to do and exactly when to do it.
My faith in what I know about the Universe and the power I know everyone has can help override their worries. I'm not infected by their distress. It's not that I don't care. It's really the opposite: I see them in their power and I know in a very strong way, they are equipped to create their own lives, whether or not they're plugged into that fact.
Really, feelings of love, caring and faith are my cues I'm actually being helpful. When I feel scared or upset for someone–and see myself somehow as the path to their salvation or worry that I don't know how to save them–that's evidence I'm currently off-center and have little to offer beyond amplifying what they are already feeling.
Thanks, Tarot, for another timely reminder in the form of next week's forecast.
Next Week in Tarot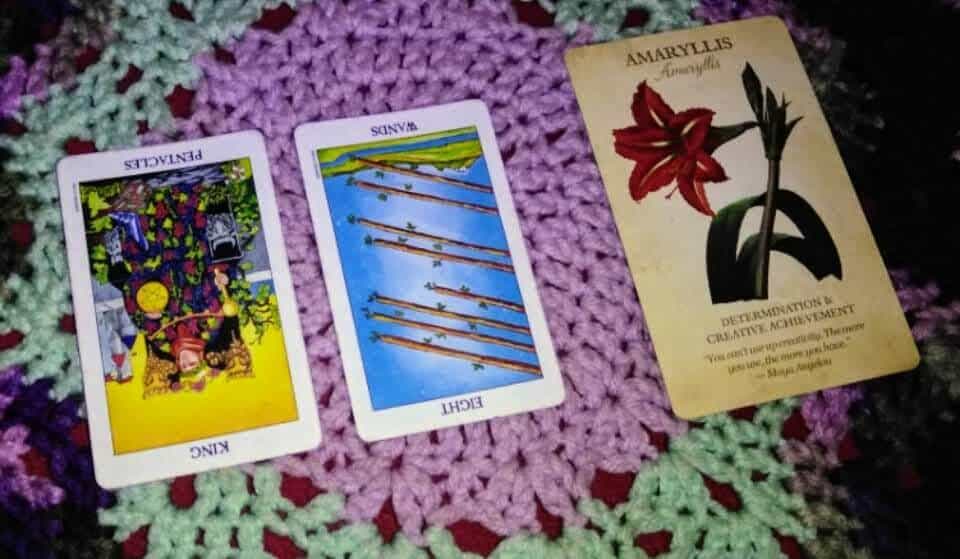 This week, our forecast shows up in the guise of the King of Pentacles reversed with advice from the Eight of Wands reversed (Mini Radiant Rider-Waite in a Tin). While these aren't particularly harsh Tarot cards, seeing them both reversed adds an element of tension.
For a little more clarification, I grabbed my Botanical Inspirations deck and we got Amaryllis: Determination and Creative Achievement. It's speaking to the outcome of following this advice.
I suspect we'll generally have what we need to manage this coming week, but may not feel very sure of that fact. We may reach out to others, especially for practical or physical assistance. There's also a potential for over-extending personal resources in an effort to rescue or otherwise provide for others you may not see as capable of taking care of themselves.
So questioning either your own ability to manage or someone else's may be part of the mix. In either case, you want to make sure any action taken is done so from the right place. If you find yourself saying something like, "If I don't do this, who will?" that's your cue, you're buying into a mirage. Same goes for thinking, "There's no way I can manage this." Both are illusion.
The advice here is to the point: don't see anything as "an iffy situation." It's not. See it as workable. See any problem or crisis as serving a purpose, a turning point or improvement opportunity. See whatever situations that crop up as necessary, even helpful to strengthing and clarifying the greater picture. See it all as a means of leveling up.
"You can't use up creativity. The more you use, the more you have." –Maya Angelou
True creativity is inspired. That's why you cannot use it up. Your job isn't to produce it from thin air, either for yourself or someone else. Your job is to tune in and allow the flow. This also sets the stage for other people hooking up to it as your connection helps influence them at the same time.
I'm not suggesting you shouldn't provide support. Done right, that's a beautiful experience for all involved! But when you do it from a position of strength in compensation for another's weakness, it's only reinforcing the status quo and lack of stability. If it doesn't feel good, it's not really helping.
I AM saying to only offer your own energy up from a steady and grounded space. If you want to provide meaningful support, do so only when you're feeling strong love, appreciation, and respect for the strength and abilities of the other person you wish to assist. In such cases, you are tuned in and whatever you give will have a much more meaningful and longer-lasting impact. And isn't that why we do it?
How comfortable are you with providing support? Have you noticed it working this way for you?
If you'd like a little support coming from a space of faith in your abilities to master your life, give me a holler for a personal session. ~Dix