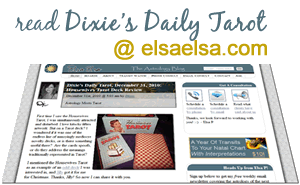 I've had a number of folks ask about the daily Tarot column from ElsaElsa.com, as today's was my last. I've been very, very touched by the kind comments and emails. Thank you!
I love Elsa and the crew that frequents the place, so realizing it was time to travel my own path was bittersweet to say the least. (I still plan on hanging out at the bar!) But I'll always be thankful for the wonderful opportunities granted me there, not the least of which was realizing how very much I enjoy doing this work. Which leads me here, to start my own journey. I'm foolish. So this should work, right?
To those who've asked, yes, I do plan to keep writing. The discipline of a daily column has been a growing experience, and the constant seeking for something useful to say to you gave me pockets of perspective, dealt by the Tarot and much aimed straight at me. It's like Tarot meditation.
So for now, I'll keep doing it if you'll keep reading it. Deal? Look for more from me around May 1st. And thanks for all the fish!