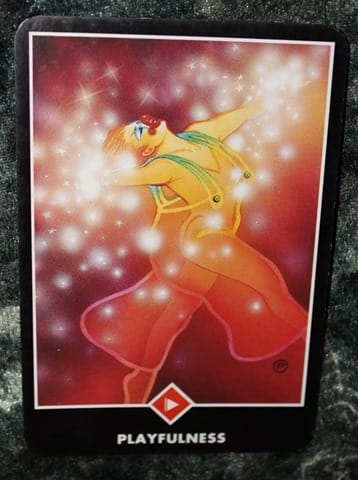 Here I am, facing my least favorite Osho Zen card…again. I'd honestly tell you (and I have) that it's the creepy, half-dressed clown lady giving me pause. And I'm sorry, but a big red nose is flattering on no one!
However, I cannot help but wonder if the bigger reason it's my least favorite card because I'm so damn inclined to ignore it's advice?
The Page of Wands in the Osho Zen deck is "Playfulness," emphasizing boldly expressing your joy, "playing" in your passion. How often do tiy skip right out and roll around in the sheer joy of doing what you love?
Pages are associated with Earth, and Wands with Fire. So we have Earth (real world) in Fire (spirit) here. ACT OUT (Earth) your passion (Fire). Personally, it's hard for me to overcome self-consciousness at times, which may sound odd for a Leo rising who makes videos for Gods sakes. But you never know what's going on in somebody's head, huh?
Find your joy today and absolutely revel in it! Make some time for what you love and in that space, allow no guilt or self-censoring or criticism to burst your bubble. Let your magic flow freely and see how much it invigorates you.
I would not be at all surprised if the exercise left you uplifted and making a commitment to do it a lot more often.
How does your playfulness express?
Schedule a session with Dixie.