Denial is powerful. I can't condemn anyone for it because I've done it myself, just as much as the next guy. I understand how it serves, keeping painful realities at bay when you're not quite ready to process them. But honestly, the longer it goes on, the bigger the tab at the end. If you have inkling, why not try to open yourself up to what you're getting?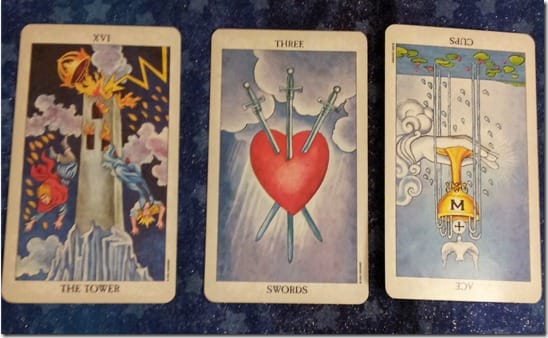 Well, I didn't exactly get an easy time of it for today's Tarot, huh? Eeek! We've got the Tower (Mars), the Three of Swords (Saturn in Libra) and the inverted Ace of Cups (Water). We're looking at very disruptive and painful energy overall. This spread makes me think of a breakup, where one finds out their partner has been pretending to feel something other than what they really do, maybe for a long time…
Not that I can't spin it. It's just the sugar doesn't wipe out the aftertaste. The scoop—whatever's come crashing down lately? Good reason for it. Yes, it hurts. You probably miss what you used to have, no question. But do bear in mind, those things that break really needed breaking. There were weak spots in there already. You just didn't want to see. I feel ya on that.
The trick here to minimizing damage is making sure you're not camped out in that tower. That means being willing to see the writing on the wall, the cracks in the foundation, being willing to acknowledge what doesn't quite smell right. That smoke you are smelling? It's not burnt dinner. It's a fire! While it undoubtedly costs us to openly acknowledge, it will cost more not to, so best take those lumps as they come.
And as emotionally draining as it is when it hits, it doesn't stay that way forever. You make your peace with all things, in due time. People are resilient and sometimes, with a little distance and detachment, you can even see where all ultimately serve you…if you decide to live  that way, that is.
Do you avoid seeing painful realities before they smack you down?
Schedule a Tarot consultation with Dixie.