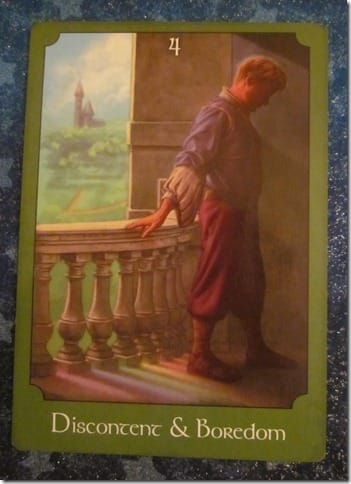 Are you a "grass is always greener" sort? Or do you tend to stay with what you've got, maybe even long after you'd have been better served moving on?
Today's Tarot is "Discontent and Boredom," better known as the Four of Cups or "Lord of Blended Pleasure," associated with the Moon in Cancer. And it's true, sometimes this card can signal being stuck in a rut. Mostly, I see this fellow pop up when more attention is being paid to what is not than to what is.
Now, we talk about the Law of Attraction, and tuning in to the vibration you want. And what you want may not exactly be reflective of current experience. Ouch. Feeling like you're missing the boat doesn't exactly put you on the frequency to fulfillment, huh? So you need another approach.
Instead, start with elements that have the essence you want, and turn them up. Since form is irrelevant at this point, you can be creative. Work your way backwards, starting with the feeling you want.
If I wanted a partner, I'd look to what I expected to get from having that relationship. Companionship, security, and love? Get a dog! A sense of shared goals and dreams? Volunteer, or work on a cause. Your enjoyment is much more important that how you activate that vibration. The more joy, the higher, quicker, and louder the energy echoes into other other areas of your life.
But—and this is important—don't dog yourself for feeling restless or unsettled sometimes. It's not a failing. It's a gift! Uncomfortable feelings are like a warning buzzer that something's out of alignment. Or maybe we have extra challenges—difficulties give us powerful insights and potent energy. Our wounds grant us compassion, empathy and ability to heal.
Any difficult energy can operate like a a pent up spring—an invitation to burst forth in a new direction. It may be a challenge to master, but it's a potent force for creation. "Discontent and Boredom" reminds us if we don't like the view, we can plant a new garden, using whatever seeds we've got on hand.
How are your flowers doing?
Follow Everyday Tarot on Twitter or Facebook. Or schedule a consultation with Dixie.