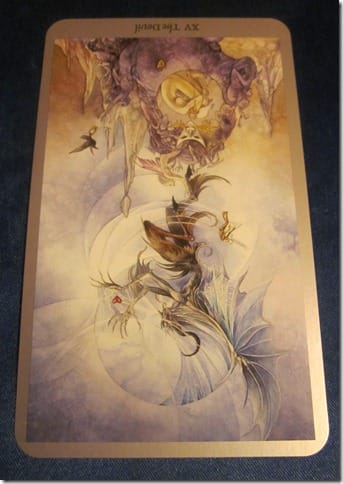 The revelation of thought takes men out of servitude into freedom. –Ralph Waldo Emerson
I have been insufferably (and inexplicably) cranky today. My poor husband has gotten to listen to all-but-utterly-incoherent rants off and on all day. He's a trooper.
I felt guilty about it, until I apologized. He responded with an exaggerated sigh, excusing me. I laughed and cussed him and immediately forgot feeling bad. I'm not a hard woman to live with, even on a bad day.
Today's Tarot forecast is the reversed Devil, or Lord of the Gates of Matter, traditionally associated with Capricorn—sorry, Goat friends! I often prefer to see the Devil inverted, as it seems suggestive on an easy escape.
And that's exactly what I see. That sense of restriction? The feelings of being put upon and under-appreciated and misunderstood?
Yeah. It's me. And I can stopped being fussy as quickly as I stopped feeling guilty for doing it. It's a sprung trap. All you have to do is notice that, and you can walk away.
You have any sprung traps?
Schedule a consultation with Dixie.