So do y'all notice when I'm late? Because I do. Still working on the recovery bit and still not able to do as much as I want or plan any given day. But still doing some.
I will say I'm feeling this week's forecast here. Not really feeling like things are predictable or orderly, more emotional than I'd expect in general. So I'm looking to take this week's advice.
And in addition to the advice given below, a nap here and there can do wonders. Just saying.
Next Week in the Cards
Cards this week are from the Star Tarot deck, one of my favorites.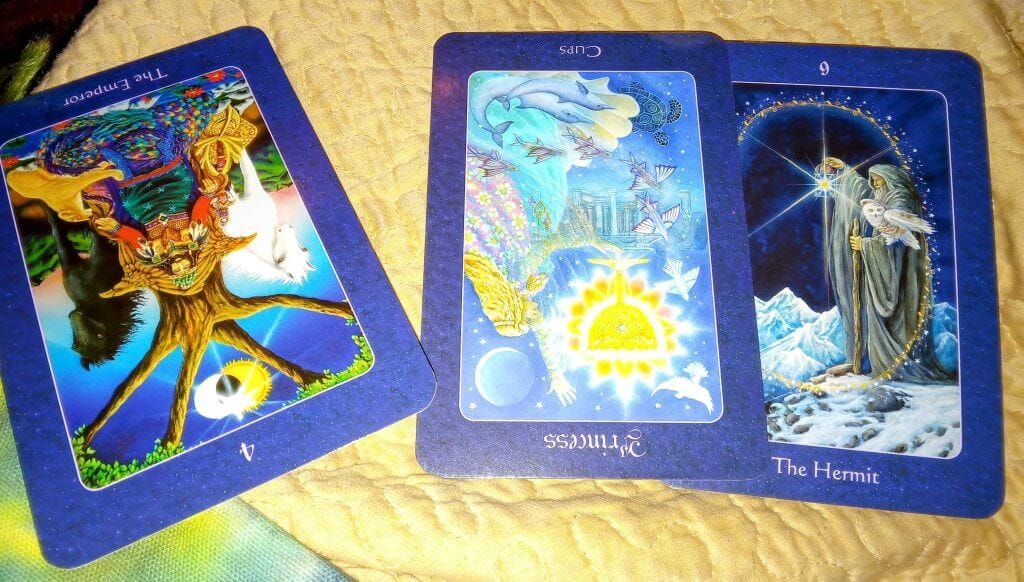 Outlook is reversed Emperor. Life still feels a bit out of control, at least partially. Another week where we wonder if the folks at the wheel are really in control of the car. (Probable answer: sort of.) This sort of vibe allows for surprises, and not all bad ones.
But I'm thinking it highly likely some of the surprises will be about how strongly you feel about what's going down. Emotional reactivity is high, while understanding of said reactivity may not be as high.
Side note: with this kind of a week, don't force anything, even if you feel antsy to do so. You've got to let various situations resolve, information come out, circumstances clicking into place.
Advice is to the point. Reversed Page of Cups, clarified by the Hermit.
If your emotions are inconsistent or riled up, isolate! Go off to your cave and spend some time to yourself. Stay away from triggers until you feel like you've a better understanding of your feels. That way, you're not going to get them all over everybody else, you'll have nothing to regret later and bonus points: you'll get the chance to figure out what all those intense feels are all about. Because any time you react more strongly than you'd expect, that means you're tapping into some other emotional vein there. There's always a reason for the reaction, whether or not that reason is obvious. A little hermiting will help make the reason more clear. In my book, coming out with a little more wisdom is a win.
How are you faring this week?