"The devil has put a penalty on all things we enjoy in life. Either we suffer in health or we suffer in soul or we get fat." –Albert Einstein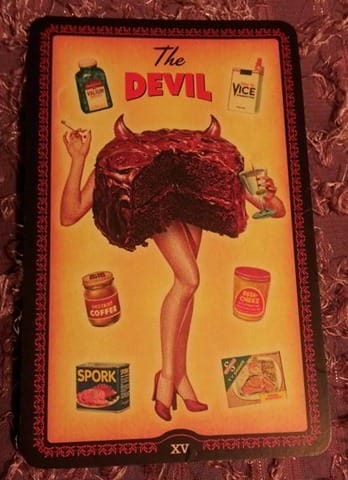 Well, if we're going to have the Devil, at least it's a Devil I know and like! This is my all-time favorite Devil card, and the reason I bought the Housewives' Tarot, right there. Isn't this an awesome Devil card?!
When I'm stressed out, I hit the chocolate with a vengeance. But most of these vices are pretty familiar. And in the long run, most don't help much. While you can lean here and there to prop yourself up during a difficult stint, better to consider the vices more recreational than functional for the most part.
The question here is, what are you leaning on? Is there a vice that you're using to avoid or numb something you'd be better off addressing? Because it may feel better in the moment, but that doesn't mean it isn't making things worse.
I'm not saying you cannot have any vices. Just know what they are, and remain aware of how heavily you lean. Don't let their importance overshadow their function in your life.
Oy. I guess I'd better watch it. It's a lot easier to put on that weight than take it off, man.
Are you prone to vice?
Schedule a session with Dixie.