These cards for next week? That's my life, right there. Maybe yours, too.
I'm getting what I need, but not as much of it as I'd like. Real-time life is asking more of me right now than usual. So I will be doing my best to rise to the occassion but NOT expecting it to be the new forever-normal because it's not.
Heads up for my Tarot people: I'm currently only accepting email readings and there will be a longer-than-normal turnaround. I'll be in touch with the folks currently in que. Thanks for understanding! ♥
Next week in the Cards
These cards for next week? That's my life, right there. Maybe yours, too. I recorded this on the fly.
Below is the written transcript. With the sentence breaks added because of my pauses, it comes out sort of like poetry. I'm leaving it that way, so enjoy the forecast "poem." Cards from the Universal Rider-Waite.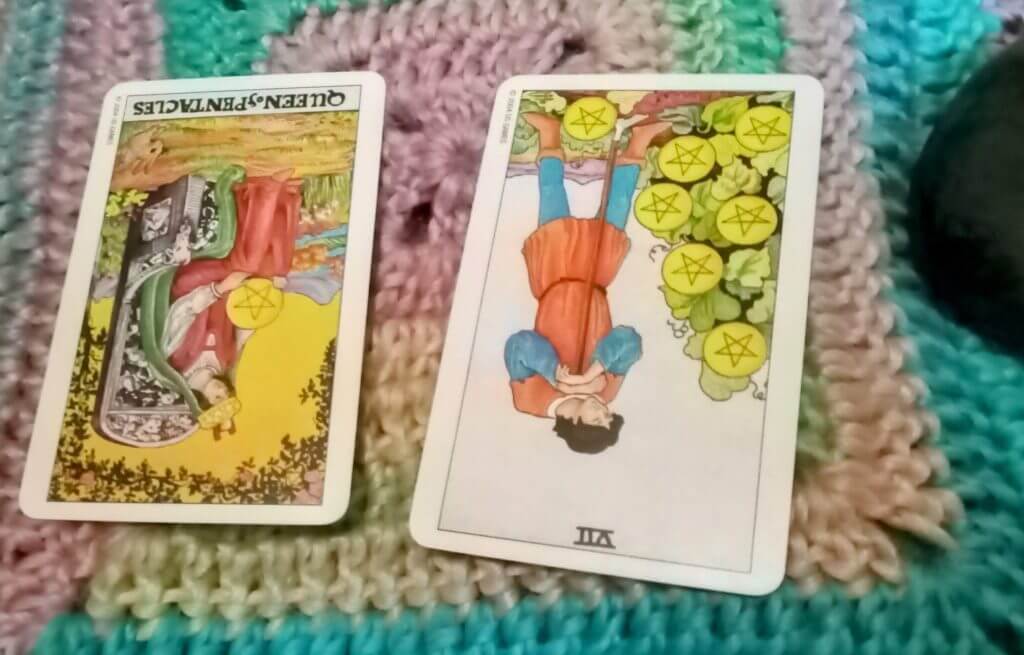 Here is a quick look at next week's forecast. The outlook is the reversed queen of pentacles with advice from the reversed seven of pentacles. Notice both of the cards are pentacles.
So there probably will be a significant amount of concern with physical needs and.
Real world issues and tangible kinds of areas of attention. Now, with reversed queen for the forecast.
I'm expecting people to get fed, but maybe not enough.
And I don't mean this so much.
Physically, although that's certainly possible. But I mean in terms of getting.
What you need, you're going to get.
Some of what you need.
Most people get some of what they.
Need, but in some sense or another.
There's a good chance they might sort.
Of leave the table feeling a little hungry.
It's difficult to manage not only what.
You need personally, but what everybody else needs at the same time. And I expect this to be a fairly widespread phenomenon.
As far as advice, a reversed seven of pentacles is going to indicate that you need to largely focus on taking care of immediate concerns first. The long-term questions are meaningful and important, but I don't think that necessarily our perception of where we are going.
Is going to be strong enough for us to lay down a lot of really long-term plans. You don't need to fix dinner for.
The next two months.
Just make sure you've got enough for.
Tonight, and hopefully tomorrow.
And again, I'm speaking largely figuratively.
---
So do the best you can, friends, and don't expect the crazy to be forever (because it won't). I'm rooting for you! You send your roots for me, too, will ya? Together we can manage anything!
Much love.