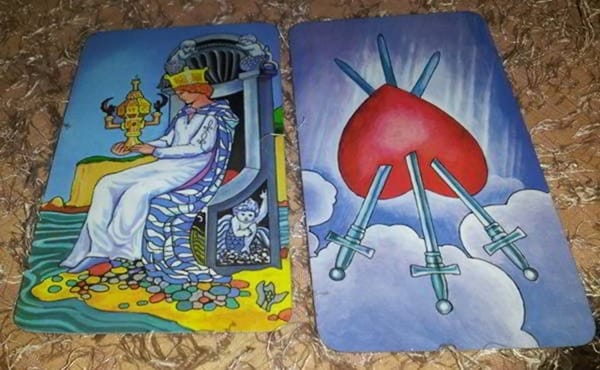 When I pulled the Everyday Tarot cards for today, these two cards hopped out of the deck together. So I'll read them together! The Queen of Cups is very squish! The Three of Swords, very harsh but still wet—emotional for one of the swords, as that broken heart is surrounded by storm clouds and pouring rain.
We're talking tears, maybe buckets! It's emotional. But really, is that loss as great as you think it is? Or is it temporary, somehow limited, not really as complete as the current emotional response would suggest?
Look to how you think about the situation, what meanings you ascribe, as being integral to the reaction to what's been cut. What meaning are you adding in?
See, the Queen of Cups is a purely feeling, emotional creature. She often cannot be bothered with rationality.
"I cannot deal with such details!" she insists. She's swimming already, overwhelmed and focused on the ornate cup of desire she holds in her hand. Nothing else exists for her. The little angel under her throne is quietly supporting her, but she's oblivious.
With the Three of Swords inverted, I tend to think much of the PAIN involved here could be readily removed. You pull out those swords (via rationality, we're talking the Air element), look to discern what is actually being created (Tarot threes), and then, the heart has a chance to heal. Storms blow over.
What's the end of the world today may not be tomorrow. But the only difference between today and tomorrow is subjective.
Are you feeling this?