"Is she avoiding me? Is he mad at me? Am I being stupid? Why didn't I see that? Why did I say that? Ugh."
That is what people say when they have what I call "a case of the feels."
That's what I call it when your emotions are just a little raw and you can tell, it wouldn't take too much attention on anything to kick full on into one emotional direction or another. That's what I've been feeling and seeing recently and it looks like it's relevant for the coming week.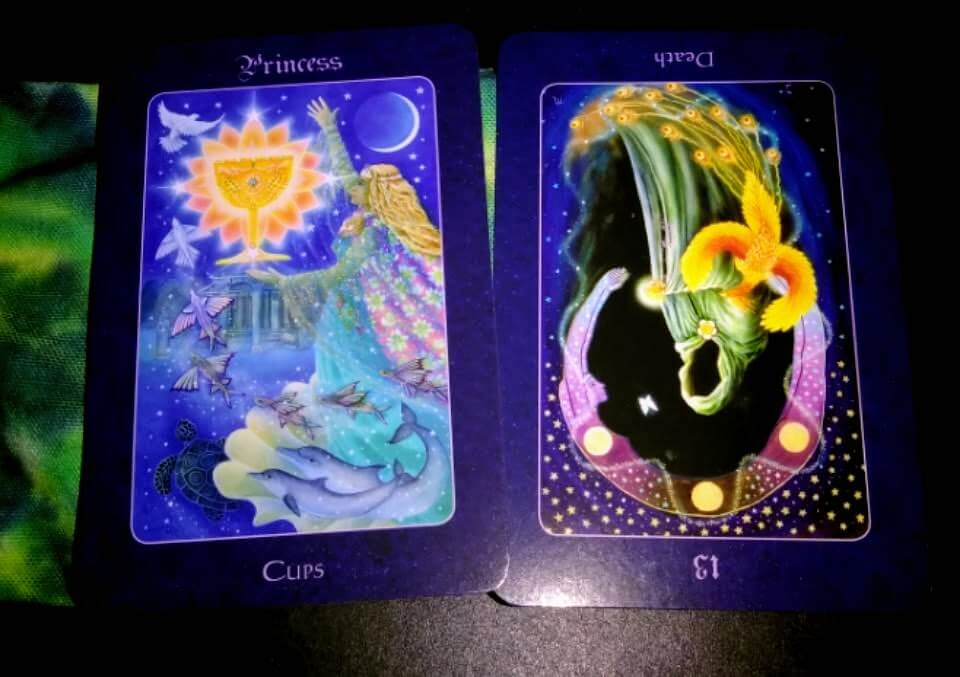 We have the Princess of Cups (Page of Cups) for the weekly outlook, followed by Death reversed for advice from the ever-so-lovely Star Tarot.
The Princess presents a huge (and loud) emotional message. Expect your heart-strings to get pulled this week and when they do? Look for themes in what you're feeling, not the individual occurrences.
Inverted Death as advice–doesn't that make you think of the phrase "death warmed over?" This card would suggest that what looks like the end of anything may not be. There is a significant transformation and cutting back, but not complete elimination. Think of it as pruning what isn't healthy to allow for fresh growth.
Much like with dreams, the specific details are much less important than the FEELINGS. The scenarios will vary but the feelings will tend to run a similar temperature when you get this dynamic rolling. In other words, if you are worried about upsetting someone close to you, then you'll be calling up multiple examples of this dynamic as you become more emotional about it. That is not proof you're a clod, by the way! It's evidence you're becoming more caught up in the emotional tide with worries of being inadequate or whatever.
When you're dealing with a case of the feels, be gentle with yourself. Withdrawing from too much stimulation can be helpful. Note the emotional tenor of what sort of content you consume. TV shows, articles or even discussion can have a bigger impact if your emotions are a little on edge already. Naps are great therapy! Distraction helps.
This coming week, go easy on yourself from an emotional standpoint. Make your actions measured and gradual, pruning little by little whatever is uncomfortable around you without pushing for instant resolution. The step back is often enough. Take your time, step gingerly and replenish yourself emotionally by spending time doing things you love and feel good doing.
And don't worry. It doesn't help and these emotional blips always do even out in the end.
Do you have a case of the feels?
If you want a little help sorting it out, give me a holler for a private consult. And take care of yourselves out there!
~Dix