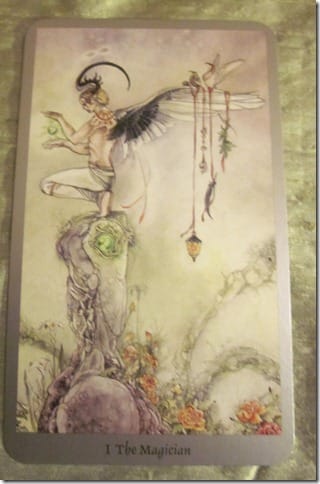 When faced with frustration, it's all to easy to feel victimized, plagued by bad luck, or somehow cursed. I'll spare you "Dixie Pep Talk #203," short of pointing out what looks like bad luck often isn't, and how you play your cards matters a whole lot more in the long run than the cards you get.
"Nothing external to you has any power over you." –Ralph Waldo Emerson
Today's Tarot forecast is The Magician or The Magus of Power, associated with Mercury. I'm partial to the Magician, I'll admit. I always like seeing him, because he tells us we have access to everything needed already. It's just a question of channeling that energy.
His power isn't over others as the Emperor's often is; the Magician's mastery is always self-mastery. He controls his own mind, his thoughts, and therefore, how he expresses his desires. See how he holds his wand to the sky, while his other hand is pointing downward? As above, so below. In the traditional version, his white robes denote purity while the red cloak shows he acts in accordance with his wishes. In short, he's effective!
So if you don't like what's going on in your life, if other people aren't behaving as you'd like them to, join the club! It's a damn near universal membership, man. But there is something you can do.
Here, now, separate yourself from outside influence. Focus first on being the person YOU want to be, living the life YOU'D like to live, and watch as outer reality begins to match what you are putting out there.
The Magician speaks to what's within your power to change. If you want respect in your life, be respectful to others and detach from those disrespectful. If you want harmony, act harmoniously and detach from drama. Whatever it is you want in your life, seek first to BE that, and let that energy attract more of the same to you.
Where are you aiming your power now?
Schedule a Tarot consultation with Dixie.