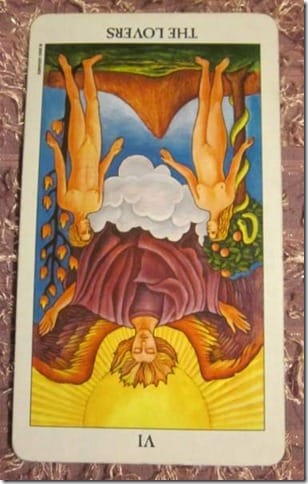 Well, the Lovers are askew today. Oh no! Ruled by Gemini, usually these two get along fabulously, like peas in a pod. But currently, the couple is of two minds.
What is not quite fitting in your close relationships? What doesn't quite add up? What doesn't work just the way it should, you know? This isn't a horrible, awful, unrecoverable rift we're talking. It's a lot more subtle. But the divide is cramping your mojo nonetheless.
Here's the trick: wherever you're finding disharmony in your interactions with others, see it as a reflection of disharmony within yourself. If you feel the other is being stingy, look at ways you are stingy. If you feel the other is being dishonest, look at how you are dishonest. You get the idea. I'm not talking about blaming the victim. I'm talking about not being a victim by looking at your own role in whatever you draw into your life.
Maybe the words come out of somebody else's mouth, that's true. But YOU draw people and situations into your life based on your own energetic vibration. The problems you have with others, especially in close relationships, is a perfect reflection of the energetic imbalances you have within yourself.
In the Tarot, seems like all roads always lead home. Ouch! And thank God. You know?
Do you find what you're bothered by in others reflective of issues you have yourself?
Schedule a Tarot consultation with Dixie.