Sometimes, I wish I were better at taking my own damn advice.
Recently, taking the advice I'm about to hand out here would have come in very handy. Too bad I didn't manage it.
But every day is new, right?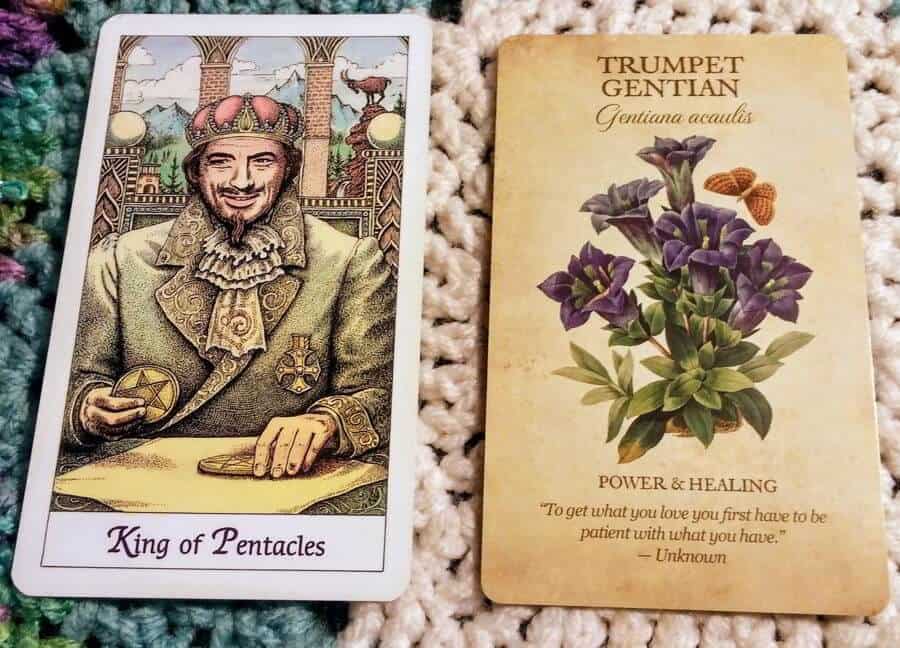 The King of Pentacles (Cosmic Tarot) is a happy dude. He enjoys what he's got and he enjoys sharing it. You can expect to eat well if you hang about his house. He's on deck this week, but the caveat is that he can do his work in your life much easier if you loosen up a bit about fears on getting what is needed first. Being okay with now while expecting more is what's going to click everything into place.
The Trumpet Gentian (Botanical Inspirations) suggests being at peace with your now. That's very good advice, and if it's not coming smooth, you don't have to attack it head-on. In fact, it's easier not to go head on, if you're feeling some struggle. Just look to set it aside a little and assign it to the Universe to sort.
So, we've got the reassurance, needs will be met. The King is clear about that. Follow that up the faith that comes from lining up your energy with what you want, and the trek will be SO MUCH smoother.
It's not the faulty circumstances you want to force into a better place here. It's your flow–the ease with which your life operates. You want to be going with the current rather than against it, and that's not action work. It's energy work, which sets in motion the circumstances and events necessary to progress. You can progress by fighting your way through it, but man. It's hard work.
Never, ever, ever skip lining up the energy. Especially if it's something you care a lot about. It just takes a few minutes but it can save you countless hours of struggle.
Hang in there and be well, folks! Much love.
p.s. If you want some one-on-one time, you know where to find me.