"Charity begins at home, and justice begins next door." –Charles Dickens
Goes both ways, really. Sometimes, I'm way too kind to myself, not seeing the little peccadillos that drive me nuts in others reflect my own quirks. Other times, I cut everyone on the planet a gigaton of slack but myself none. Neither of these approaches is ideal, y'know?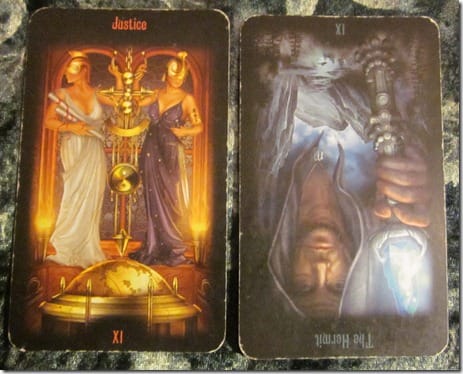 Today's Tarot is Justice or Daughter of the Lord of Truth (Libra) and the Hermit or the Magnus of the Voice of Light (Virgo), both Major Arcana. It's time to impartially balance needs; fairness is absolutely required now for a good outcome. Avoid falling into a victim stance or over-focus on yourself. (That goes for being less kind to yourself as well as more kind.) Everybody has to have equal weight here. Don't withdraw, engage. Break it down, list it out, and give everyone their due. Just maintain fairness and an even hand. This is what facilitates growth.
How are you at weighing out the facts?
Schedule a Tarot consultation with Dixie.