"How is this going to work?"
That question has been prominent to me for what feels like forever. I still don't see the whole puzzle yet, but pieces are coming together bit by bit.
Maybe you've been wondering the same thing? If so…well, I wouldn't count on concrete and complete answers next week. But do expect progress, even if it's not evident on the surface.
Your mission, should you choose to accept it, is to maintain YOUSELF in the face of any uncertainty. Doable, right?
Next Week in Tarot
The outlook for this coming week is The Hanged Man, with advice showing up as the Three of Swords (Air). Cards pictured from the ever-so-gentle Good Tarot deck.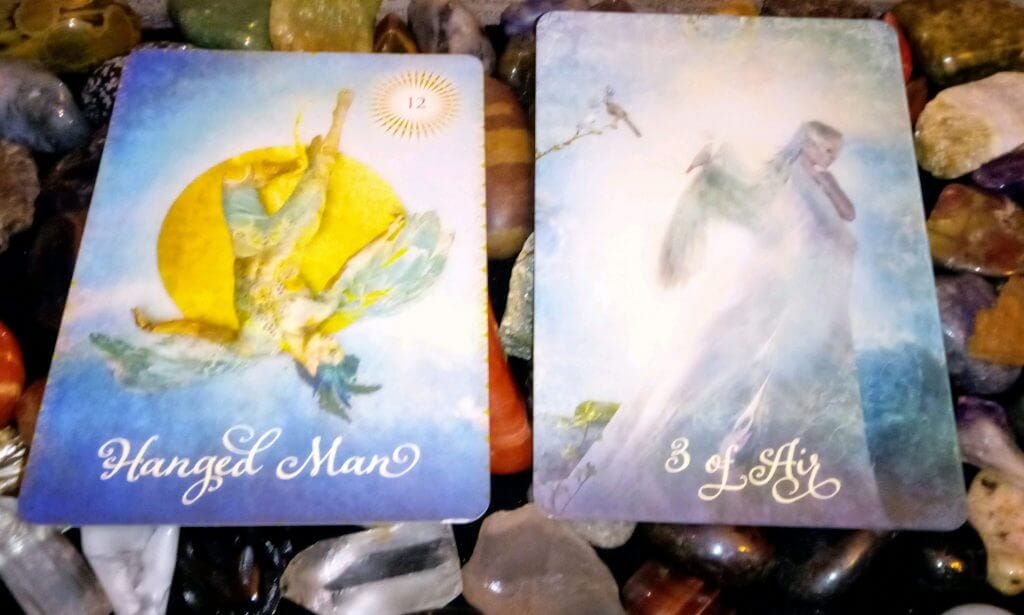 Now, the Hanged Man isn't hard to understand in terms of a forecast. Expect the world to be very squishy and uncertain.
However, there is always a caveat with this card: Outwardly, it might seem as if very little if anything is going on. That wouldn't be true, but whatever is happening is likely to be underneath the surface and not easily identifiable.
Additionally, the Hanged Man will always, always, always suggest you keep the faith. You are encouraged to believe, even in what you cannot see. With this energy, you should also trust your gut over your eyes. Now, I would usually encourage that approach anyway. But here, it's specifically advised.
Insofar as advice, that Three of Swords is a little trickier. This is the card sometimes known as "the heartbreak card," and in less diplomatic decks, it's illustrated by a heart with three swords running through it. Ouch!
Also remember the Three of Swords is ruled by Saturn in Libra. So honesty, responsibility and boundaries  in relationships will lead to better outcomes than becoming overly accommodating.
It's not like I'm going to suggest you create a heartbreak for yourself! But both of these cards do have a common theme: let go.
For the Three of Swords specifically: Allow yourself whatever sadness you are inclined towards, if that's where you are. Maybe you will feel a sense of loss, or maybe not. It could go either way. But no matter what, accept where you're at. Forget trying to force anything. Desperation doesn't pay off.
And for the love of all that is holy, please stay true to yourself no matter what. For Saturn in Libra energy to ever work out well,  you've got to maintain personal integrity. You can't be all things to all people and expect success. You've got to be all YOU, to all people.
Survival Tips for the Week
Call upon your faith.
Don't assume nothing is happening behind the scenes.
Feel however you feel about it, but don't fight reality. Roll with it.
Stay true to yourself! Never a bad idea, but especially important with this energy.
Take care out there, friends!