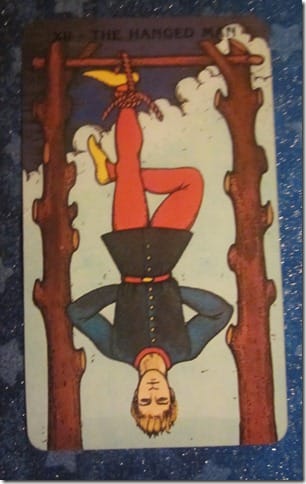 Dealing with ugly circumstances is often easier than waiting to find out what the circumstances really are. At least once you know the facts, you can take action, doing the best you can with what you've got to work with. When you're waiting on the facts, though, your imagination reigns and there's little you can do to actually impact the situation.
The wait is excruciating. Unless you want to take Tarot's advice.
Today's Tarot is the Hanged Man or Spirit of the Mighty Waters, associated with Neptune. My primary keyword for the Hanged Man is faith—find it, use it, and rely on it. When you see the Hanged man, it's absolutely your best bet.
The Hanged Man would have us take it all on faith—pray, channel love and light, or just let go, knowing the forces at work are not within your direct control. Direct action isn't really an option, and besides, this is not your problem to solve. The outer reality is not within your realm to impact, so any work you do has to be on your inner reality.
Fortunately, inner reality work can be pretty damned effective at changing outer reality, too. At the very least, it has a big impact on your subjective experience.
Let go and trust—all is as it should be. Clarity comes in time but for now, good intention is enough.
You taking anything on faith?
Schedule a consultation with Dixie.