Jesus Christ. I mean, really! Just…Jesus Christ.
Okay. Okay. I absolutely KNOW not to kvetch and moan about what the cards have to say, because every time I do, I pay for it without exception. But still…I was excited, to draw the first card for my new "Everyday Tarot" column. I expected something…I dunno. Special. Like me!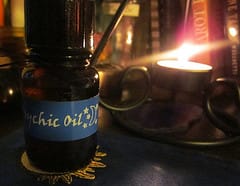 I did the full-on reading prep. I lit my incense and meditated and prayed and even used some of my homemade Psychic Oil, whipped up under that mega-Neptune Pisces moon a while back. I was ready for magic–a good, solid sign to start off today's run.
Secretly? I was really hoping to draw the Fool. How perfect would that be, huh? A Major Arcana card at the very least! Except you don't tell Tarot what you want to see.Tarot tells you what it wants you to see.
Um, yeah. You'd think I'd know that by now.
Today's Tarot is the Five of Swords, inverted. Also known as "The Lord of Defeat," he's associated with Venus in Aquarius. Maybe I should try on some of that famous Antiquarian detachment, huh? Like all Tarot fives, you see this fella pop up surrounding conflict, or to answer the question of who's running away with the prize. Inverted, don't expect or strive for a clean sweep. Good enough is good enough here.
The featured rendition from the The Housewives Tarot emphasizes the perfectionism question especially. All those scissors, all those threads hanging off make quite a mess! But you know, the dress still fits. Those details are relevant and important, and the seamstress will get to them in due time. But driving yourself crazy with all those tiny threads can easily lead to overwhelm and maybe even some accidental stabbing!
I have spent the last few days feverishly tweaking this website in preparation for starting Everyday Tarot. I fussed and mussed with code and graphics and thought and planned and did everything I could think of to start out strong. I wanted it to be perfect! Profound! Insightful and delightful! (I think all those kind comments I got ending the Daily Tarot went to my head.)
All that striving for perfection left me finding fault with what I might ordinarily consider to be an excellent initial effort. Those remaining threads will just have to wait. As I told a client yesterday, "We're fresh out of perfect." And we are. So today, we've got the best I can manage. That's often better than I give myself credit for. You too? And really, good enough IS good enough. Because it has to be.
Are you happy with the best you can manage?