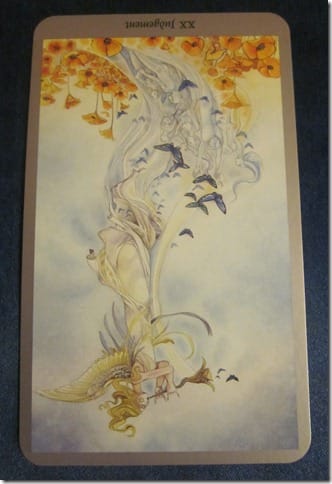 Sometimes, the "who" and "what" and "how" doesn't make much difference. Details can morph into a tempestuous storm, raining down a thousand tiny, upsetting pricks of pain that accomplish nothing, but disrupt our harmony. The best approach depends on your objective, you know?
Today's Tarot forecast is Judgment reversed, or "The Spirit of the Primal Fire"—that sounds serious! Number XX of the Major Arcana, Judgment is modernly associated with Pluto. So the duality—guilty and innocent, dead and alive, real and unreal—all reside within.
This version from Shadowscapes is a lot prettier than the RWS, which I call the "Zombie Parade." But whatever package Judgment arrives in, it's always a powerful energy.
I do like the secondary title here. Fire is primal, and cleansing. While Water is Pluto's element, I can certainly see a fire elemental affinity with the concept of judgment day, as in trial by fire, burning down the house and reemerging from the ashes. Inverted, look to what's being held back, not said, or not acknowledged—that's just as important or more so than what is.
Withhold judgment for now. Even if you have a list in your head, like I have.
"I need to feel safe—not criticized. I'm not going to apologize for doing my best… I'm on a no-drama diet. And I don't want to feel like I have to watch my back." On and on it goes. But even as I list it out, I know how ridiculous it is.
Do people go into situations with plans of spreading drama, pain and betrayal? Well, maybe some, but if they do, it's not like they'll own up to it before the fact. Or have a change of heart 'cause you say it's not cool, you know? So what is the point, Dixie? (I don't want to feel like a dumbass for believing.)
But the swishing around all the injuries in my head? It's like nibbling repeatedly on a poisoned apple. It's not going to cure the feelings of being sick. The reversed Judgment card would have us either forgive, or amputate—either way, releasing the poison. But realize amputation isn't a cure if you continue to nurse the hurt feelings—nobody's really gone, who lives in your head.
The idea is to get to the place where you can let go lovingly, never with ill-intent. Even if it's just a "Thanks for providing an instructive example" or "I learned a lot about myself through this." I sure do, even (sigh) those times I learn something I'd have preferred to avoid. Damn universe, turning on the lights again, just when my eyes were all comfortable in the dark.
The Judgment card reminds me, the choice of emotional experience is all mine and only mine. Will I withhold judgment on history, to make a future possible? It's a risk, even trusting those who've never hurt us. Risk is inherent. But there's so much we stand to gain from trust, it's risk worthy of consideration. Letting go of judgment is the prescription for peace, however you accomplish it.
You have judgments in process now, too?
Schedule a consultation with Dixie.