I was writing an email to a friend–he'd asked how I was doing. We're good enough friends, I know he sincerely wanted to know what's up in my world, the same as I do when I ask him that question.
So, I told him. It took a while to write that email and made me realize, how very much I keep to myself right now.
Looking at the message for next week, it might be time to email one of your friends. Or pick up the phone. Or whatever you do.
Next Week in the Cards
Outlook is the Five of Pentacles, here as "The Outsider." Advice is the Four of Pentacles reversed, or "The Miser" from Osho Zen Tarot.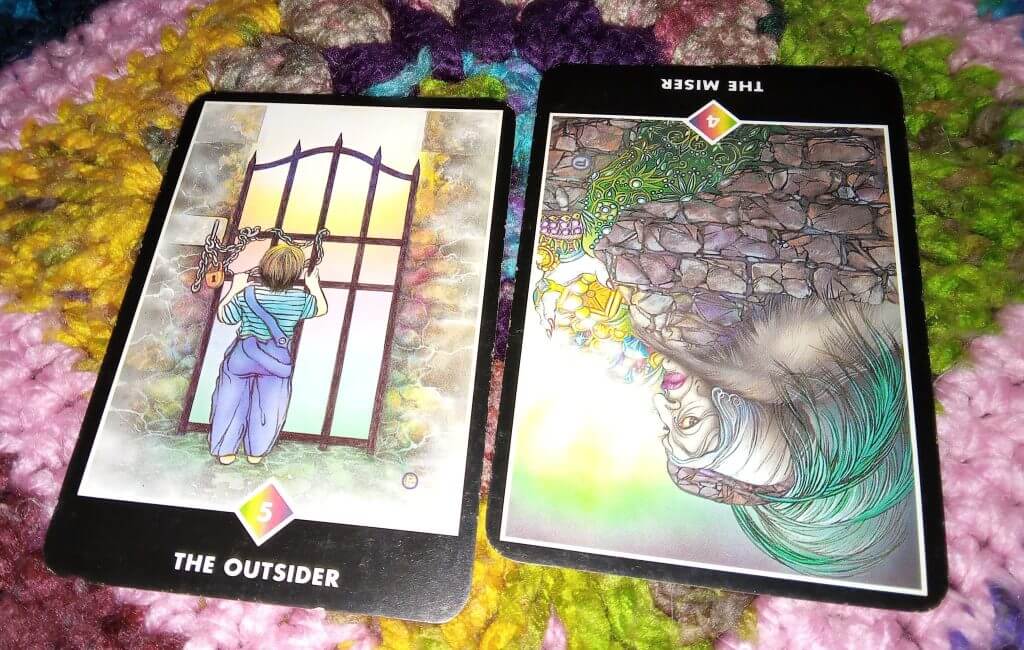 Isn't everything you need just on the other side of that locked gate? It feels like that!
You may have a clear idea of what you want and even know it's out there, available and not so far, either. But that doesn't mean we've achieved clarity on how to get there.
For advice, though, there is a smidge more clarity: loosen up, at least some. Don't try so darned hard to protect, preserve or defend yourself from everything that could potentially come your way, all those scenarios you might imagine up to worry about. That fear is effectively causing us to respond to problems we don't actually have and leaving us feeling less, not more, secure. An urge to be guarded also ensures the sense of isolation will continue.
Connection requires risk. Reaching out leaves us vulnerable. Keeping things close to the vest is certainly a matter of individual choice, but it's a choice that can assuredly enhance isolation. You don't need to dump your worries and woes on random passers-by. But you may choose to consciously share a little of what's going on with you in the coming week and allow yourself some moments of connection.
Moments of connection can have great healing power, after all, no matter what side of the table you sit.
Are you feeling moments of connection?