"I do not slay man or beast needlessly, and not gladly even when it is needed." – Faramir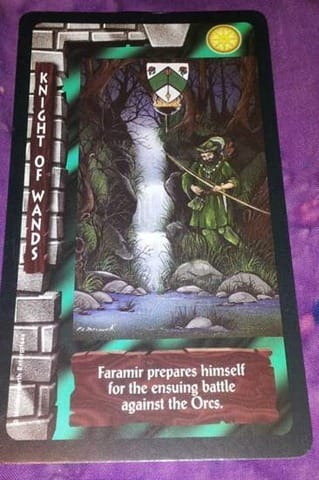 I was just gifted a new deck by one of my people—Lord of the Rings! Hello, Tarot geekiness! Thank you, dear! (I SO have to reread these books now…it's been years and years since I have.)
So today, we've got the Knight of Wands, Tolkien style.
This card features Faramir preparing for damned near impossible battle—against thousands of orcs. It was bound to be ugly and he didn't relish it—but he ultimately did what he believed he needed to do. Though wounded, he did survive.
The message I take from this is straightforward: prepare yourself, and move forward doing what you need to do. It may not be joyful (and perhaps it shouldn't be), but stand up and be fully ready to fight your way through.
Sometimes, we need to take down an orc or two. Even if you don't want to, you'd be well-advised to take stock and be ready to go the distance, should you need to do so.
Can you use this energy about now?