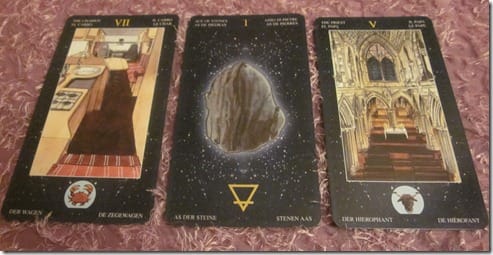 With all this Mercurial energy flirting with Neptune, I've been seeing nothing but lack of clarity everywhere I turn. I was looking for a little direction and definition when I pulled out the cards for Today's Tarot forecast, thinking I should pull extras because I knew one wouldn't be clear enough! So I opted for a simple, 3-card Mind / Body / Spirit spread.
For Mind, we have the Chariot or "Child of the Power of the Waters," associated with Cancer. Body is the Ace of Stones (Pentacles) or "Root of the Powers of Earth," connected to Earth (duh). Spirit is the Hierophant or "Magus of the Eternal Gods," associated with Taurus. Seeing two of the three card are Major Arcana, I know the message is powerful for anyone ready to pay attention.
home is wherever your heart is, but the direction you drive your thoughts dictates where you settle. What are you focusing on? Where you're going, or where you've been? Beautiful sights, or blights on the scenery? Your assessment of reality alters your satisfaction levels tremendously.
To fare best now, take care of yourself physically! Eat well, drink lots of water, get rest and recreation in between your driving shifts. Don't want to fall asleep at the wheel (or will). There's time for eating and visiting and referring to your maps. At your best, you are unlikely to miss the signs.
All this makes for a pleasant journey to your destination—the breathtaking Cathedral of Inner Peace. Your sanctuary awaits, solid, everlasting, and filled with ancient understanding of truths like who and what you really are.
What do you see, out your window?
Schedule a consultation with Dixie.