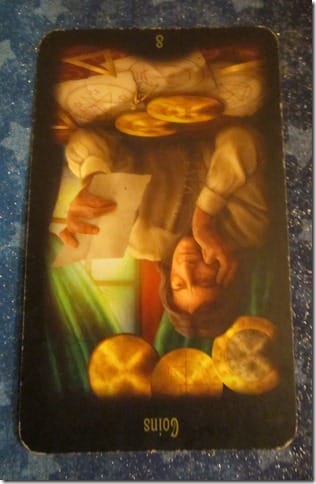 Some changes come in a flash—insights, realizations, or just a shift in scenery that dawns like the sun peeking over a mountaintop. It's clear, complete and unquestionable. You've left A and reached B, possibly not even being aware of the line connecting the two beforehand.
Other times, not so much. It's those other times I'm thinking of today!
Today's Tarot forecast is the inverted Eight of Pentacles, aka "The Lord of Prudence," associated with the Sun in Virgo. And what Virgo would not love to be deigned the Lord of Prudence, huh? That sounds…useful. Helpful. Organized. Tarot eights suggest sustained work, value achieved through maintaining coherent efforts despite tensions that arise. Inverted, look to disruptions, delays or blocks as possibilities.
Are you questioning the efficacy of your efforts? Thinking about giving up? Because the reversed Eight of Coins would suggest you reconsider. So often, our plans are just easier than reality, kindly shielding us from…well, unintended consequences, pesky details and the stuff we haven't already figured out beforehand. There's always something. The point isn't so much whether or not your plans are working as you thought they would. It's more about looking to what you're getting from the plan's execution.
When I first took over a well-established online community, I had BIG plans. The site was very much in need of attention I knew how to provide; having started as a community member, I had a solid understanding of the niche and great fondness for the membership. Serving as a moderator, I had a good working relationship with the other moderators and community. Working as a web developer for years, I was comfortable with doing the tech work myself.
Despite a long-term lack of attention, the site was also doing better than I would have hoped financially. It was a good place, I wanted to make better. Throughout the period of consideration, I consistently got very clear signs this was the right move. All lights were go, so I took the leap.
I stopped taking on projects for nine months while I reworked, transformed, and updated every single nook and cranny. A baby I had here! And everybody loved the new life—and all was good. Except, well, it didn't become what I'd expected. It did, however, become more and more difficult to pay expenses. I hadn't bargained on the financial crisis or that making the site more engaging would drop income, but it did. Nobody clicked out on the ads anymore!
I ended up selling the site at a modest profit, feeling relieved to let go of the responsibility. I could (okay—did) feel bad about it for a while. But I know I was right, both in the acquisition and the moving on. I learned SO MUCH in the process, it became a stepping stone along my path.
I could lose faith because my plans were off, or I could say, "Okay, what next, Spirit?" Because I've no doubt that no matter what I can personally imagine accomplishing, there's so more out there I haven't yet. That's the stuff I want to experience!
You go on detours, too?
Schedule a consultation with Dixie.