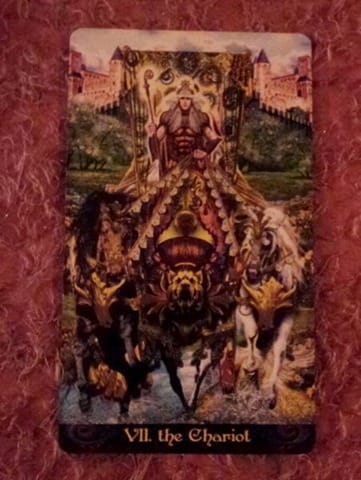 The Chariot shows us a highly focused approach to a mission, whatever the mission may be. It may also be at times an unconventional approach—associated with Cancer the crab, Chariot energy is at times indirect, "sideways," like a crab moves. Most Chariot renditions show us a chariot (duh!) pulled by a white and a black animal. The suggestion is that all resources must be harnessed. This means channeling what could be characterized as weaknesses in service of your goals as well as strengths. I've also found this card to frequently show up related to home/family oriented objectives, another Cancer connection.
I recently had this card inverted in a reading to show an option where the ongoing focus could be relaxed. The Chariot IS a card of success, but it does have a price. It's tiring! So while it's a great message when you need it and points toward success, you don't want to live your whole life awash in the vibe. You know?
I'm taking this card today to suggest single-minded, uncompromising attention to your goal. You may opt for a sideways approach if that's what's most readily available, but do NOT forget the end you are pursuing. And do not lose heart! The heart is the secret of the Chariot's power, providing the dedication needed to succeed and seat of the secret reserve of energy the Chariot driver calls upon when needed. The emotion is what torques the energy up. Use that to your advantage.
You have occasion to call upon the Chariot's energy?

Tarot Illuminati by Eric Dunne & Kim Huggens Follow Dixie and the Everyday Tarot on Twitter, Facebook, or YouTube. Or just schedule a Tarot session.