You think you know where you're going, and you feel like you are making headway. Not there yet, sure. But you can see how it's going to go down, at least. You see the path.
Until you don't.
It can make you a little cranky, you know? But crankiness doesn't help, says the voice of experience.
This week, the path probably won't go as you've been expecting. Tarot has some advice on adjusting expectations.
Next Week in the Cards
For outlook, we have the reversed Ace of Wands, here shown as a feather duster. Advice is the reversed Five of Pentacles. The Housewives' Tarot shows plates falling to their doom!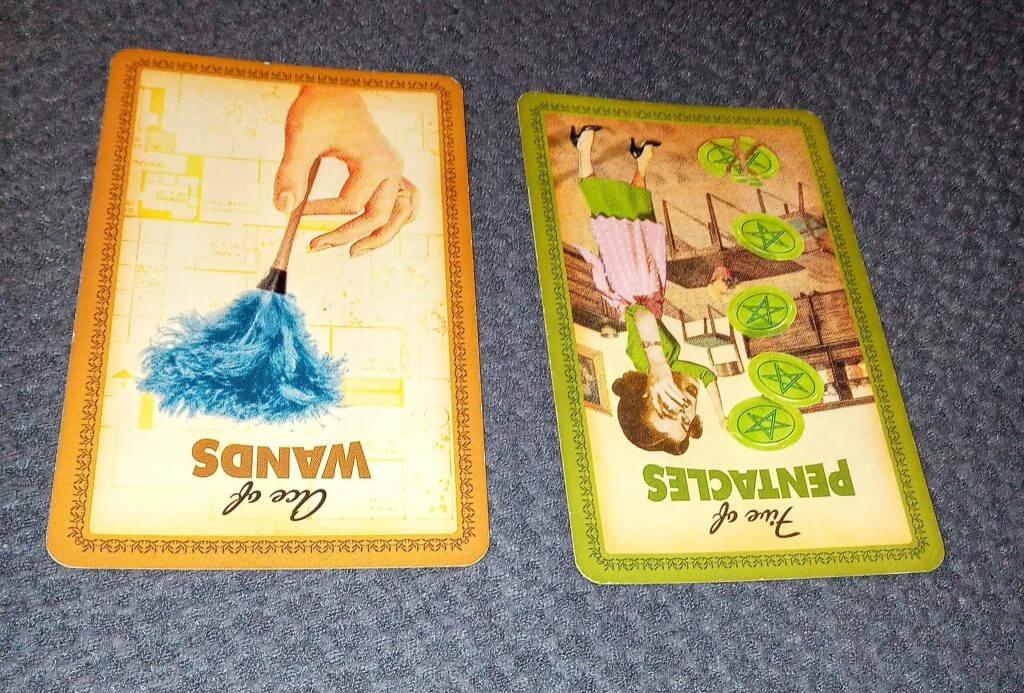 Life may not be moving fast enough to suit you. (It sure isn't for me, at least on certain fronts.) Progress can be choppy, uncertain, or just not satisfactory. There is a proverbial fly in the proverbial works.
Damn fly.
Don't fall apart or give up. Don't cry over milk that hasn't been spilt. Don't give up hope or expect all to be lost.
While life might not be moving how you have expected, it is still move. Once the dust settles, some of the help you've requested will come through, be it in tangible, concrete form or even a more ethereal flavor that includes new understanding and insight.
The trick is allowing yourself to shift goals with shifting conditions and understanding. Adjusting expectations doesn't mean "settling for less." It means being "settling for different." You can still get to the castle but the road may look a little different.
Would flexibility in your expectations help smooth your path?