I've been feeling more at peace lately. Not 100% of the time naturally–I'm not freakin' Jesus. But I've been gradually feeling much more centered, much more of the time. I'm really glad!
My buddy Josi likened my process to shaking a kaleidoscope until I find an image I am pleased with. It's an incredibly apt metaphor.
We've got multiple interpretations of reality to choose from. Why wouldn't I pick the one that feels best to me?
If you can only feel peace when what you observe agrees with your idea of right? You're screwed, plain and simple. There will absolutely ALWAYS be those who don't believe as you. There will ALWAYS be people living in a way you don't see as good or right. There is too much variety among us for any one perspective, any one conclusion, any one idea to be universally adopted. (I actually believe this to be a good thing, but I don't try to convince anybody else of that.)
Lately, I've been thinking of the dramatically diverse viewpoints as being a form of religion. Facts are all well and good, but the interpretations, deciding what anything ultimately MEANS, is a uniquely individual and emotional process. Conclusions are far more a function of where one's faith lies, what an individual regards as being true and right, than any objective summary of facts and figures.
What's more, people are inclined to loudly preach their faith. It's easy enough to feel bothered if that faith doesn't match ours. It doesn't mean those preaching are deficient somehow for looking through a different stained-glass window than I am.
So lately when I run across something that doesn't work for me, I just say to myself, "That's not my religion."
It feels so much better than the arguments I used to have in my head…
My religion is pretty simple, really. It's mostly about kindness, respect, and optimism. It's doing the best I can personally to contribute to the greater good universally. I don't have to work out the specifics of what "good" must look like on a grand scale. Instead, I find it enough to feel compassion for any who suffer, while trusting in the strength and spirit of each individual to find their own path.
I do me. You do you. It's a very simple approach to live and I like it that way.
Everyone else is welcome to their own religion, of course. That's kind of the whole point. Reminding myself of this has been super helpful in keeping my own head on straight. Maybe it will help you a little next week, too. I hope so!
Next Week in Tarot
The softly-colored cards pictured are from the Crystal Visions Tarot.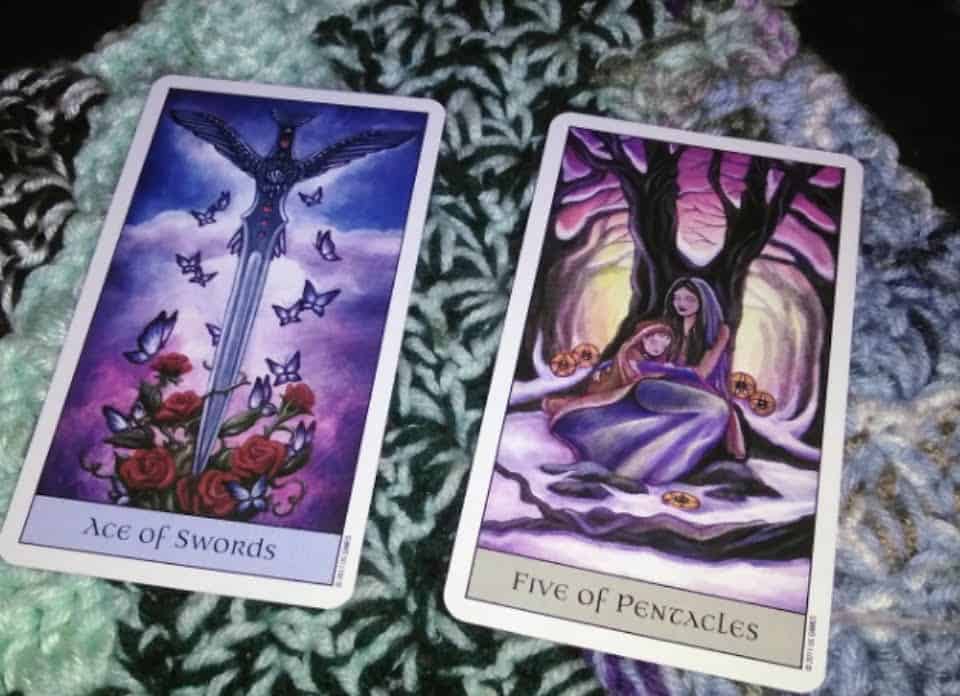 Outlook is the Ace of Swords; advice incoming is via the Five of Pentacles.
I'm expecting people to maintain a very focused (and no doubt narrow) point of reference in the coming week. In other words, perspectives remain polarized.
I'm not seeing much in the way compromise or even passing interest in opposing views. The Ace of Swords indicates a very singular focus. For most, there will be no shades of gray. Definitions of "reality" may be centered around a single idea or story that considered universally true, completely representative of the larger whole.
To some extent, this is also giving me an "if you're not with us, you're against us" vibe. While my take on it seems (unfortunately) descriptive of current events, don't be surprised to see this at the micro/individual level every bit as clearly as in bigger venues. It's just the flavor of the week, you know? While it's not my favorite flavor by any means, I try to remember that this sort of focus can produce some stunning shifts. I've got to trust in the Universe to orchestrate it all because it's way above my pay grade to have all the answers for everybody on everything. I'm just looking to guide my own ship, damn it!
The Five of Pentacles is an especially interesting card to see as advice. I normally see this one when someone is feeling "left out in the cold," short on resources or without adequate support. Tarot fives indicate conflict, but that doesn't mean the conflict isn't productive in some way. More importantly, I always get this card when help is already available, although the individual may not yet recognize it as such.
In this picture, four of the five pentacles are behind the woman and her child, with only in plain view. She has more resources and support at her disposal than she knows. (This could be said for pretty much all of us, of course.)
In the context of advice, I'm going to suggest you slow down and take stock next week. You might feel like you're on the outside and there's definitely potential for fear, sadness or a sense of alienation. No dramatic action is required to address this, though. Those feelings are temporary, not the last word!
If you need to isolate a little, do that. There is no harm in stepping back and it could provide some relief. Instead of jumping to conclusions, take a break from trying to figure it all out. Ground and breathe.
Comfort yourself and expect to begin to notice the resources and support you do have. Those resources are not only there, but have been all along. Wrap yourself in your own values and realize, you don't need a congregation of agreement here. Reach for personal stability instead.
Are you finding ways to center yourself now?
If you need some help, give me a holler for a personal consult and we'll talk.