"Perseverance is an active principle, and cannot continue to operate but under the influence of desire." –William Godwin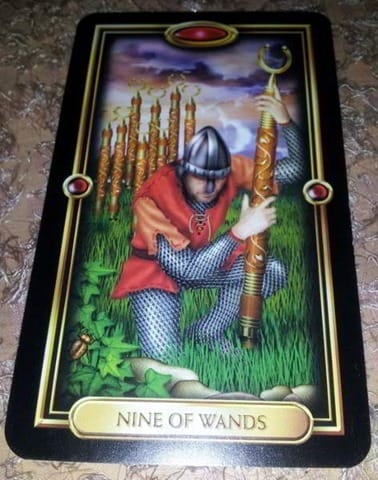 I always find the Nine of Wands such an encouraging card, even though I know he generally signals a period of weariness. That's because of two very important points: 1. He's digging his heels in, still holding his own, and 2. he's almost done! One of the Tarot Nines, we're nearing the end of a cycle.
Do what he does: stay firm, stake your claim based on your true desire, and do not relent until you're done! It's not so far as you think. It's the burning of desire in your heart that lets you call up those reserves of energy you need to finish the job at hand.
Which reminds me…I need to finish editing my book. YIKES!
What do you need to finish?
Follow Dixie and the Everyday Tarot on Twitter, Facebook, or YouTube. Or just schedule a Tarot consultation.