It's been another crazy-busy week in my world.
I moved to the Ozarks to help out my folks, and this past week, there was a lot of helping to do! Appointments to navigate, cleaning to be done, questions to be researched, problems to solve, meals to be prepped, and more. It kept me hopping all week.
That isn't to say I minded a single minute of it. I didn't.
I moved here because I wanted to make a difference. It's beyond evident I am, indeed, making a difference. I'm happy to be here, doing what I'm doing. It's satisfying.
So yes, I am working hard. But it's joyful and fulfilling work. This is exactly the type of vibe we're looking to ride through the coming week.
Next Week in Tarot
Outlook this week is the Eight of Pentacles (or "Ordinariness" here), with advice from the Page of Wands (aka "Playfulness"). Deck is the evocative Osho Zen Tarot.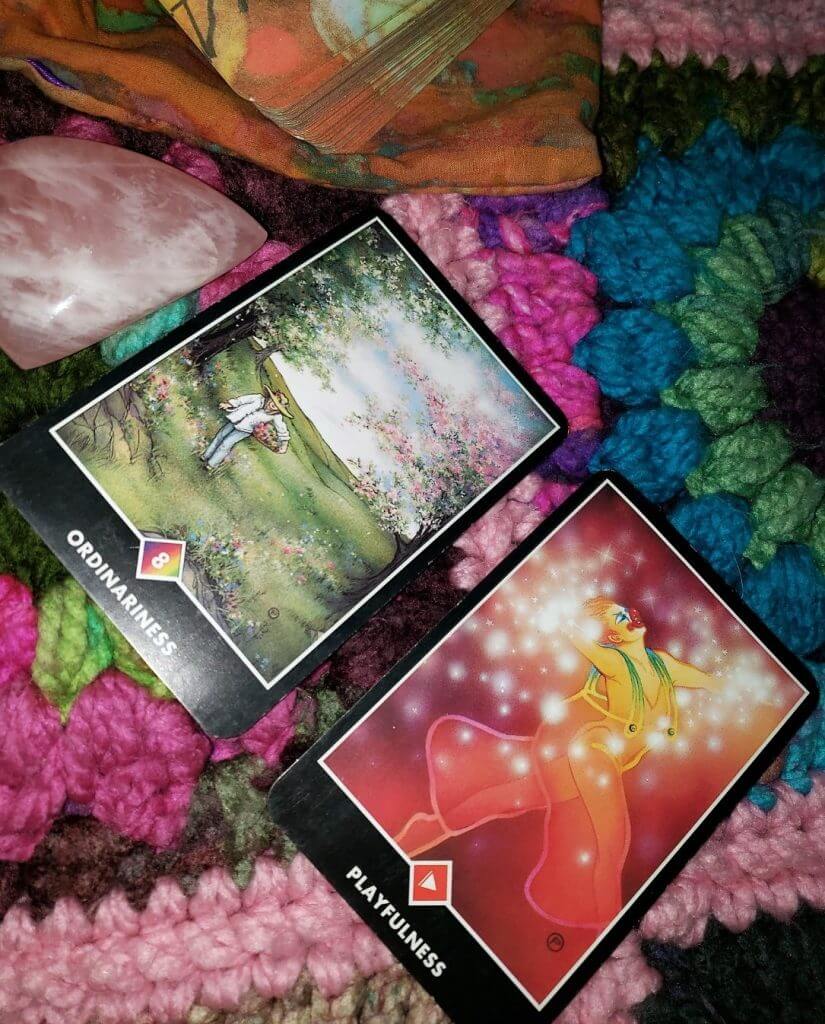 I have always liked this rendition of the Eight (traditionally illustrated as the very Virgo guy sitting on a workbench, hammering out one Pentacle after another). This particular illustration makes me think of the "chop wood, carry water" Zen adage. You do what you do, you know? Before and after enlightenment, you still chop the wood and carry the water.
There is beauty woven into the threads of everyday life. What you're doing doesn't matter; the mindset with which you do it does.
Activities like grocery shopping or doing laundry can be tedious chores. I know! Or they can be an exercise in mindfulness, a physical expression of love, self-care, or even a sort of magic spell.
What elevates a chore to a step on your spiritual journey isn't the "what," but rather attention and intention added to the doing of that "what."
Why are you doing what you're doing? Ideally, what would you like to come of it?
For example, when I'm cooking dinner, I want to nourish myself and my family. I want the meal to provide enjoyment, healthy fuel, and ultimately, a sense of security and well-being. If I set my intention clearly before and during cooking, it's like infusing this energy into the activity. Lining up your thoughts (and hence, feelings) with your intentions is the simplest form of magic work there is.
But we're not talking about advice. That Eight is our forecast. So next week, I'm expecting many of us will have plenty of work to be done!
The advice from this Page, however, does team well with the energy of the Eight as outlined above. Do what you do with a light heart. Incorporate joy, humor, playfulness and optimism. Make a game out of tasks or transform them into magic spells. Find reasons for appreciation in tasks.
Now, this is never going to be a poor strategy–do what you need to do joyfully and with intention.  Maybe the practice you get in this week will help you do more of it, overall.
Be well and have a productive (and joyful) week out there, friends!