The fat lady has sung.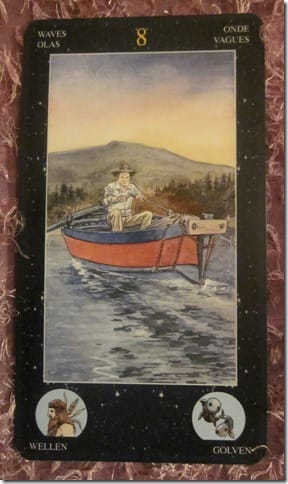 I don't know she was completely on-key, but that's mostly moot, don't ya think?
Today's Tarot is the Eight of Waves (Cups), or Lord of Abandoned Success, associated with Saturn in Pisces.
I wasn't all that surprised, to see him today. You've got to work (Saturn) to avoid getting lost (Pisces) in what we're walking away from.
Coming right in after Death, this strikes me as clean up time. We in the process of processing, you know? After letting go, of a lot. It's time to exhale. Yeah, it's still on your mind. That's okay. Appropriate, to back up, gain perspective, and gather an appreciation for the view of a larger landscape.
But regardless of where your mind wanders, it's done. Bittersweet, likely. But you know, it does feel a whole lot lighter, now.
Are you already gone?
Schedule a consultation with Dixie.