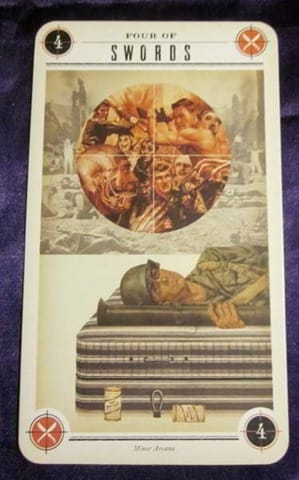 Interesting to find the Four of Swords coming right after the Five—we've got a cease fire today!
Work with this. No, a reprieve doesn't make zombie hoards miraculously disappear. But a little time off the firing line provides opportunity for a much needed nap.
You take advantage of these quieter times when you can get them, you know? Maybe the battle is not over but it's safe for right now. Knowing that allows you to exhale.
Relax, regroup and refresh thyself. This gives you what you need, right now as well as prepares you for tomorrow.
What do you see in the Four of Swords today?

The Zombie Tarot: An Oracle of the Undead
Follow Dixie and the Everyday Tarot on Twitter, Facebook, or YouTube. Or just schedule a Tarot session.