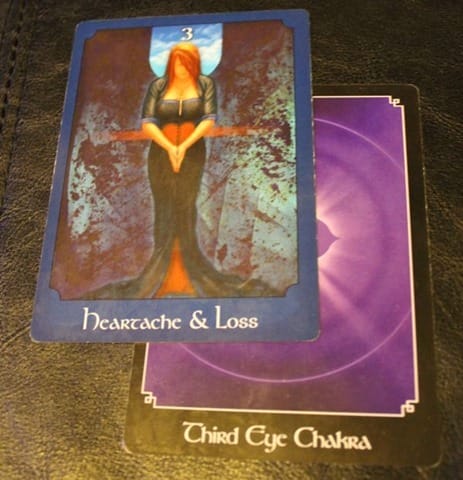 I'm never delighted to see the Three of Swords, although the Psychic Tarot Oracle is more diplomatic than most. The Chakra card turned up first, so I included it in the draw. This combo caught my attention especially, since it came up in one of those Zodiac 2014 Look-Ahead readings I did last month.
These cards could easily be read as inability to "see" psychically (possibly related to overwhelming personal pain or heartbreak). But I'm reading it today as the losses that sometimes accompany following your inner sight.
I usually talk about the gains of living in the flow. I'm an advocate, after all. But don't think for a minute there is not a cost! While I would vehemently argue living authentically is 100% worth it every minute of every day, it's not the choice I have always made. At times, I didn't feel I could afford it, financially or emotionally. That's not morally wrong or right so much as a plain fact.
You don't think people consider me crazy? Putting aside the whole "48 year-old woman with pink hair, who thinks brightly-colored fuzzy pants are a fashion statement" thing…well, yeah. Yeah. A LOT of people think I'm crazy. Some of that lot are among the people that love me. That knowledge has bite right there.
But then again, knowing you're not free to be who you really are has a bite as well.
Whether you opt to live your live fully in accordance with your inner guidance, partially, or not at all, there is a sense of loss associated with each of these decisions. With every choice made, alternatives must be discarded. This is the way of life, y'all.
Are you feeling the bite of choosing?
Schedule a session with Dixie.