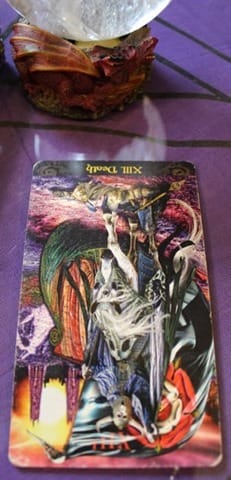 "Nights in white satin,
Never reaching the end,
Letters I've written,
Never meaning to send.
Beauty I'd always missed
With these eyes before,
Just what the truth is
I can't say anymore." –Moody Blues, "Nights in White Satin"
As I prepare to interpret Death reversed for the daily draw, the song pops into my head, "Nights in White Satin." I had to look up the lyrics because while I'm familiar with the song, I don't know the lyrics.
I learned the song was written when Justin Hayward was just 19. He was on a bed of gifted satin sheets, very emotional at the time, ending one love affair and embarking on a new one.
Today seems to have a bittersweet ring, saying goodbye to the old with a hopeful twist of looking forward to the future. Just like the song. That's what I'm seeing here.
Nights in White Satin, 1967
What do you see here?

Tarot Illuminati by Eric Dunne & Kim Huggens
Schedule a Tarot session. You'll be glad you did!