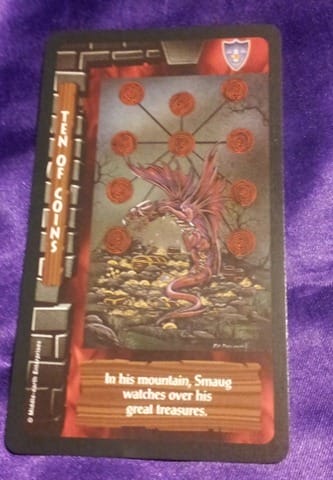 Now, the character of Smaug isn't exactly charming. He amassed his fortune by laying waste to the town of Lonely Mountain and stealing it! Hardly what we're used to with the traditional imagery of the Ten of Pentacles so much more inviting. However, Smaug's adorning this rendition draws attention to the contrasts as well as the parallels.
Smaug valued his treasure above all else, and indeed his outrage over the theft of an inconsequential piece of it—a single cup—is what led to his undoing. While he was heavily armored, his soft underbelly fortified by the jewels he laid upon for so long they became embedded in his skin forming a armor of treasures, there was a single missing scale. The area not protected was near his heart.
So in Smaug's fury in taking his revenge of the theft of his cup, that vulnerability left him exposed. All the treasures of the world made no difference because his heart was not pure or guarded.
That's a message strikingly similar to the RWS Ten of Pentacles, showing the other side of the pentacle. Ha!
The people at that family gathering ARE the most important treasures. This card does speak to material abundance no doubt, but it's more: the total picture (and not the bank account) dominates. Family love is the greatest treasure of all! Those pentacles would be nothing but meaningless bits of shiny metal without the ability to use them in an uplifting and constructive way, and to share with loved ones, consistent with what's in one's heart. Without that, the wealth is empty and useless.
What do you most value? Do you guard it?
Lord of the Rings Tarot Deck & Card Game
P.S. Thanks again for this deck!
Schedule a consultation with Dixie.