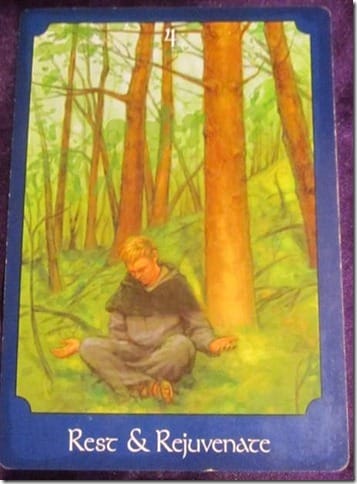 I deepen my experience of God through prayer, meditation, and forgiveness. –Marianne Williamson
Of course, this is one of my favorite versions of the Four of Swords EVER! And why not? It's obvious, don't you think?
Time out, people!
(Translation: Time out, Dixie!)
Care for thyself. Ground, connect, meditate, relax. Very Taurus-moony, don't you think?
REST! That's an order.
Because when you rest, you replenish you spirit. You refill your soul. You connect with the divine within.
That's why.
You ready to take some "R&R" time?
Follow Dixie and the Everyday Tarot on Twitter, Facebook, or YouTube. Or just schedule a Tarot consultation. I am re-doing the payment form for consults, though. It's been hanging when people try to use it and it's TOO confusing!! You're welcome to just PayPal me direct if that's easier. Just don't skip the consult because the site's still messy, okay?!? You'll be glad you didn't. I know I'LL be glad you didn't! Ha.