When I was little, I used to tell stories. About things that happened in "my other family."
It confused my parents at first. They asked what I meant.
"You know. My other family. Where I lived before I lived here. Before I was born." Because I knew I had to be somewhere before I was born. I didn't come out of nothing!
I thought back, and decided, I'd lived with my other family. The one before this one. I could see them in my head. My other family was Chinese, by the way. Everything about my other family–and especially that they were Chinese–amused my father to no end.
"What about before that family?" he asked.
"I had another family! But it's hard to remember; it was a long time ago." It was! Three lifetimes ago, at least.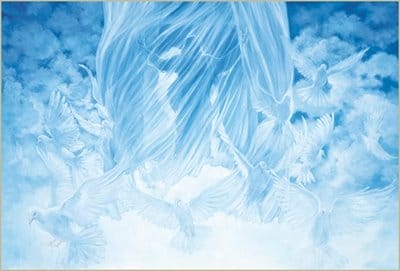 I had many, many anecdotes from my other family, and the more I talked, the more I remembered. The stories would come especially when I'd lay on the grass and gaze up in the clouds.
I'd see figures, Cloud Spirits as I thought of them, some from my other family, and others just passers-by. I could only catch little bits of their world peeking over the edge of those clouds. But if I let my attention drift into the scene, I still knew what was going on. Sometimes, they'd put on plays, tell stories or teach me lessons. I spent a lot of time gazing up at the Cloud Spirits. I always felt a sense of peace, communing with them.
"Mom doesn't like it when I tell stories about my other family, does she?" I'd whisper to Dad, in conspiratorial tones. "She thinks I'm making it up. But I'm not! I am not making it up. How would Mom know? She wasn't there. I remember."
Eventually, I stopped telling stories about my other family. It disturbed my mom enough to avoid, and I became less sure of myself. At some point, I stopped paying attention to the Cloud Spirits. I stopped talking to my invisible friends, or having the conversations in my head with people who weren't there. I stopped a lot of things, because it seemed it was time for me to grow up.
And it's taken me most of my life to start reclaiming that. Part of the reason is I have a husband who can hear me. Thanks to him and my father for listening, regardless of what they saw for themselves.
Happy Father's Day! How is yours?