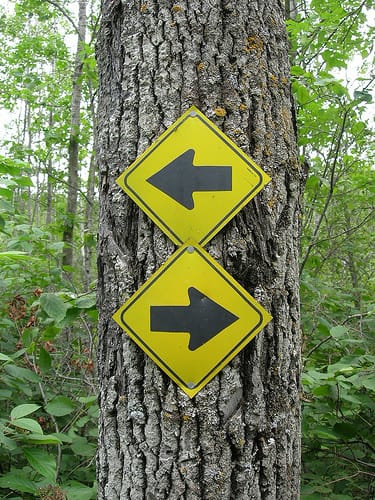 I've been having a conversation about identifying spirit signs. I have my personal "tells" — goosebumps, the three-times rule, an internal "click" and sense of knowing. I've written about this before, but here's what I'm wondering today: how do you recognize for sure something is NOT a sign?
You know. Like when is a rose just a rose and nothing more than a rose? When does something pop into your head because somebody is thinking of you instead of because your guides are hitting the hotline to let you know something?
I am all about the free will, and completely believe that you can get indications of what's coming but sometimes, things change. Heck, that's kind of the point of doing readings–to give yourself more options and insight based on the direction the energy is currently moving. It's about choices! If you couldn't make alternations in your course, there would pretty much be no point in reviewing your course, huh?
Complicating the field, we have imagination. Woo-Woo people have it in spades, because it's the channel through which the info flows. That watery energy both gives you access to the etheral and obscures reality simultaneously. Blessing and curse, as they say. It's like it's not polite to suggest that some things people take as signs are just over-reaching, but truth be told, haven't we all done it? I will 'fess up! If I'm making a big decision, I may check in multiple ways over the course of multiple days, just to make sure I'm not seeing just what I want to see.
So between imagination and free will squaring off, I can't go straight to physical manifestation as proof positive here. Just because it didn't happen a certain way doesn't mean the energy wasn't in place for it. Only that it didn't happen that way.
Which brings me back to the original question. Is it connected to the information itself? Is it about what's empowering? Is it your state of mind? Other influences in your environment? Where do you look for this insight? I'm not talking about faith or lack thereof here. I'm talking about developing some confidence around where you put your faith, you know?
Do you have experience with something that felt like a sign but in retrospect, you decided otherwise? How did you come to this conclusion? If you have any tricks, tips, or resources related to this question, I'd much appreciate hearing about it!